Favourite Jersey Beaches
With 45 miles of coastline, Jersey beaches have to be some of the best and most varied beaches in the British Isles.
Which is my favourite? Well it's hard to decide. I have different favourites depending on whether I want to swim, walk, sunbathe, explore or barbecue.

There are popular and busy resort beaches in Jersey like St Brelade's Beach, Havre Des Pas and Long Beach at Gorey, with all the kind of activites you'd expect to find in a holiday resort. There are quiet hidden-away beaches that you have to walk to get to like Beauport.
The are little fishing ports with small sandy beaches and cafes, like Rozel, Bonne Nuit and Bouley Bay. There are long stretches of beach ideal for walking at low tide, such as St Ouen's Beach and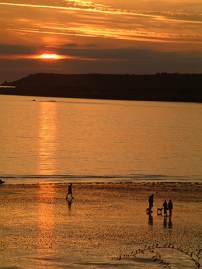 Surfing is fantastic at St Ouen's, there are watersport centres at La Haule (St Aubin's Bay), Long Beach (Grouville), and St Brelades Beach, and canoes at Portelet.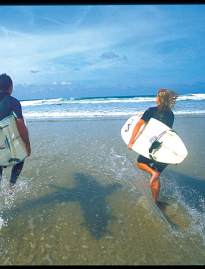 The strangest of all the Jersey beaches must be the amazing 'Moon Beach' at La Rocque - miles and miles of strange rocky scenery at low tide with its oyster and mussel beds - I love collecting cockles and winkles to eat, so it has to be one of my favourites.
There's the almost perfect sandy beach and ancient grassy islet at Green Island.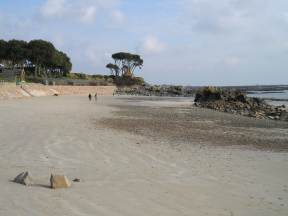 But in the end if I had to pick one favourite out of all the beaches in Jersey it would have to be Plemont.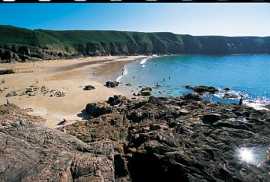 Great swimming, surf, sand, caves, sandy pools and a waterfall - I don't think there's a better beach anywhere in the world - but perhaps I'm biased!
---
Cape Town is another holiday resort with some great beaches. Check out this guide: Cape Town Travel Tips , from the Inside-Out!
---

Find out more about Green Island Beach here.

Find out more about St Aubin's Bay here.

Find out more about Plemont beach here.

Return to the top of Jersey Beaches.

Home