Jersey gardens, nurseries, flowers and floral events
If you love flowers, you'll love Jersey. Don't miss the chance to visit Jersey gardens, floral attractions, events or nurseries during your stay.
If you visit during the summer, you will see why Jersey is known as the 'Floral Isle'. Several parishes regularly enter the Britain in Bloom contest, and St Helier has won several Britain in Bloom prizes. The streets of town are lined with a fantastic display of hanging baskets every year. The town also has it's own floral competition which sees banks, restaurants, shops and private gardens competing for best display prizes in various categories.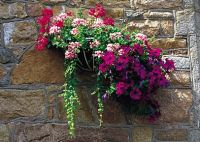 Grouville won the best Jersey Parish in Bloom contest in 2007, and was named the best 'Small town' in the Britain in Bloom contest.
Flowers and plants
The Channel Islands have a mild climate, more hours of sunshine than anywhere else in the UK, and rich, fertile soil. There are plants that grow well here that may not be familiar to visitors from the UK, including Lampranthus (Ice Plant), Agapanthus (Lilly of the Nile), and Amaryllis belladonna (Jersey Lilly).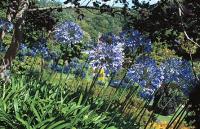 Palm trees are a common sight, and Geraniums (Pelargoniums) often survive the winter, sometimes becoming the size of small bushes!
Rhododendrons, azaleas and camellias grow well in Jersey gardens, and make an eye-catching sight in the spring.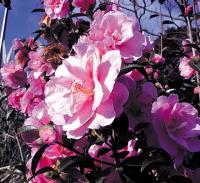 Jersey gardens
Some of the most exclusive and lovely of Jersey gardens are opened to the public in a programme of open gardens during the spring and summer, usually on Sundays.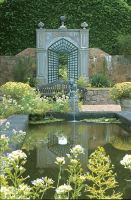 Samares Manor has extensive gardens open to the public all year round, including a Japanese garden, herb garden, willow sculptures, a lake and many camelias. There is also a small shop selling plants and gifts, a restaurant and tea garden.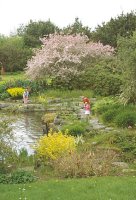 Reg's Garden in St Brelade, is open all year round, and is a colourful and imaginative garden which has a large waterfall at it's centre. there is a 180-foot long pond filled with koi carp, aviaries of birds, and the 'Fairy garden' designed to appeal to children. Paths are wheelchair friendly and entry is free, although donations are welcome.
Floral events
The Garden Festival takes place in July each year, and you can listen to horticultural experts, join guided walks, see demonstrations and visit gardens that only open for this occasion.
The Spring Flower Show includes displays of cut flowers, camellias, daffodils, magnolias and rhododendrons. There are classes for flower arrangements, home-made cakes, decorated eggs and many children's classes.
The Rose and Flower Show in June is dominated by roses, but also includes other cut flowers, pot plants, hanging baskets and flower arrangements.
The Summer Flower Show in August includes roses, chrysanthemums, pot plants, hanging baskets, succulents, flower arrangements and seasonal fruits and vegetables.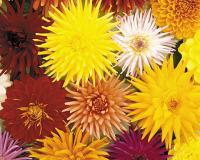 The Autumn Show has displays of fruits and vegetables, pot plants , cut flowers and flower arrangements.
Tip
Look out ay all of these shows for the displays of Ikebana (Japanese flower arranging) prepared by the Jersey Sogetsu Study Group. The arrangements are striking and sculptural.
Perhaps the best known of all Jersey's floral events is the Battle of Flowers. Flower covered floats parade along Victoria Avenue on the second Thursday of August, and again for the Moonlight Parade the following evening.
Floral attractions
The Eric Young Orchid Foundation is a world-class orchid breeding centre in Trinity. Regular gold medal winners at Chelsea Flower show, the foundation has an extensive collection of orchids, including many new hybrids named after Jersey places. There are orchids in bloom all year round in the large display house.
The Lavender Farm is at its best in July when the fields of Lavender are in full bloom. Visitors can watch lavender oil being distilled, pick their own lavender, and buy lavender products in the shop.
Nurseries and garden centres
There are large and small nurseries in Jersey, each with something different to offer.
Ransom's Garden Centre is one of the biggest, and the Gardener's Tearoom is a popular place to have lunch.
St Peter's Garden Centre, near the airport, is another large garden centre rivalling some of the best in the UK.

Sunset Nurseries specialises in growing alstroemeria, lisianthus and ranunculus for the florist trade. They also sell plants and gifts, and have a tearoom.



Find out more about Eric Young Orchid Foundation here

Find out more about Sunset Nurseries here.

Return to the top of Jersey gardens, nurseries, flowers and floral events